All classes are now taking place online! To find out more or book a free trial lesson, click the button below to get in touch: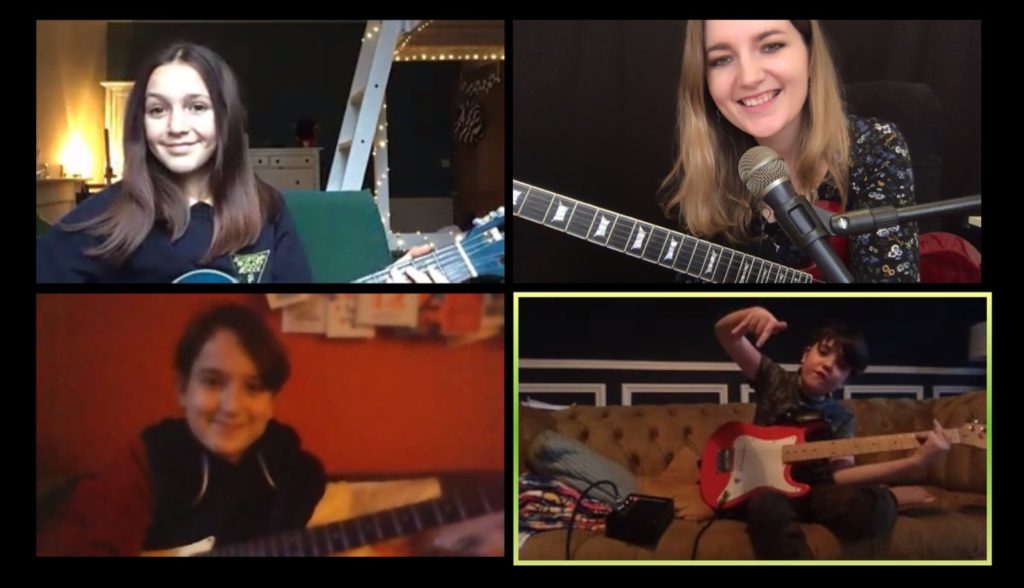 Kids Guitar Lessons you can trust, Established in 2013.
Learn Online From The Comfort OF Home
"Johanna is the best. Passionate, patient and a lot of fun, she nurtures a love of music in her pupils, helping them to not just play beautifully, but also play from the heart. We count ourselves very lucky to have found her - the classes are the highlight of our daughter's week! We couldn't recommend her highly enough."
Pam, Molly's Mum
"Stephen has been taking lessons with First Strings for 3 years (starting as a complete beginner) and he has loved every minute of it and come a very long way.  Johanna is a remarkable music teacher who is patient and intuitive with the kids. When COVID struck we were worried that lessons would not be the same, but the small class sizes over ZOOM have been a wonderful success."
Deneka, Stephen's Mum
"With lots of encouragement from Johanna, Andrew progressed from complete beginner with no musical background, to confidently playing riffs and chords from his favourite music in next to no time. When everything stopped because of COVID, Johanna quickly moved to an online class format and it has been fantastic - the same fun lessons with the new friends he made, but from the comfort of home."
Katrina, Andrew's Mum
"My son loves his First Strings guitar lessons and looks forward to them every single week!  Each lesson spurs him on to practice before and after as he is learning songs he loves to listen to. Johanna is an excellent guitar tutor who expertly delivers fun filled practical lessons over Zoom – I would recommend First Strings to anyone looking for a guitar tutor."
Mark, Scout's Dad
Johanna is a guitar teacher who specialises in working with kids and teenagers. She has over ten years experience working with children in a range of different formats, from one-to-one tutoring all the way through to large group classes and workshops. Through her years of experience Johanna has developed a unique system for teaching kids, and has successfully taught hundreds of students how to play guitar. Her lessons are accessible to students of any level of musical experience, and there is no requirement for students to learn classical music notation. 
To find out more or arrange a free trial lesson, send Johanna a message.
Where are the lessons? 
All classes take place online via Zoom video call, which means students can attend from the comfort of their own home. My home studio space is ideally set up for online lessons, with special audio and lighting equipment to make sure your child has a great experience learning guitar online.
How much are lessons? 
Fees for classes vary depending on the tuition option you choose for your child, however my most popular option works out to just £17.50 per lesson.
What ages do you teach? 
Classes are specially designed for kids and teens aged 8 and above. However if your child is slightly younger, mature for their age and keen to get started I would love to hear from you.
Do you teach electric guitar? 
Yes – students can take lessons on acoustic or electric guitar.
What kind of music will my child learn in lessons? 
Most of the music we play in lessons is rock, pop or blues based, but we dip into plenty of other styles too! If your child has a favourite song they would love to learn, tell me!
My child is a little nervous about getting started… 
This is totally natural! That's why I offer all students a free one-to-one trial lesson before joining a regular class. In this lesson we will meet and get to know each other, and I'll go over some of the basics and a fun song. I will also find out more about the music your child enjoys most so that I can build this into their lessons moving forward.
Got a question not listed here? Send Johanna a message.
Book A Free Trial Lesson!